ORDERING/ PRE-SALE
W

e are a school; can we order by invoice?
Yes, please email us with your order, billing and delivery information and contact details. We can create an invoice for you before payment.
The item I want is out of stock, how long will I have to wait?
This can depend on a few factors such as supplier stock levels, shipping times etc. You can sign up for notifications as soon as more stock is available on the product page on the website. Simply pop in your email address and you'll be the first to know!
I am wanting to place a large order; can you help with that?
Yes, we can! We offer a variety of deals for wholesale customers, schools and universities, studios, and others. So, it's worth sending us an email with the items you want and contact details. Even if it's not an order for any of the above we will still do our best to accommodate your order and create a quote for you.
Is X product in stock? How many do you have left?
We keep our stock levels online as accurate as possible and check them regularly. Most stock questions are answerable by checking the relevant product page.
How much will shipping be?
Our site can calculate this for you before you buy. Add your items to your basket, enter your address, and a shipping estimate will generate. You won't need to enter any payment details at this point and can cancel at any time.
Can I order in US dollars/euros?
You can place an order in US dollars by visiting our sister site firetoys.com and in Euros by visiting firetoys.eu.
What days are you open?
We are open Monday – Friday between 9:30 am – 6 pm UK time (excluding bank holidays).
Can I come to your warehouse?
We do allow walk-in's, though we are a warehouse, not a shop so there is heavy machinery present. If you would like to collect an order from us please arrange this ahead of time. You can call or email to arrange a time and allow us to pick out your order and put it aside.

Please note: During the COVID-19 pandemic we are restricting visits to our warehouse.
Do your prices online include VAT?
Yes.
What Payment methods do you accept?
We accept Paypal and credit or debit card. The card issuers we accept are American Express, Visa, MasterCard, and Maestro. We also accept Apple Pay and Google Pay at checkout on mobile devices.
DELIVERY
How soon do you dispatch? / What are your delivery times?
Delivery times and order cutoffs can be seen on our delivery info page here
What if I am not in when they try to deliver?
They should leave a card letting you know. In some cases, they will attempt delivery the next day however they may also return to the sender. It is best to let us know as soon as possible so we can liaise with the courier to get your parcel redelivered.
Customs/duties/taxes
You will be responsible for any local charges for importing goods. The costs will be dependant on where your ordering to so it's worth getting in touch with your national customs office for an idea of costs.
RIGGING AND AERIAL
What strop length do I need for rigging aerial equipment?
The length of the strop depends on the supporting structure height and the height you would like your aerial apparatus from the floor. A simple calculation is;
total height - (equipment + rigging + crash mat) - free space = strop length
What length aerial silk do I need?
To find the right aerial silk length for you, begin by measuring the length from the rigging point to the ground. Then times this by 2 as we measure our fabric by its full length. Then finally add 1 metre for the rigging point loss and 2 metres so there is a little extra tail on the ground. The total should then be a suitable length of silk for you.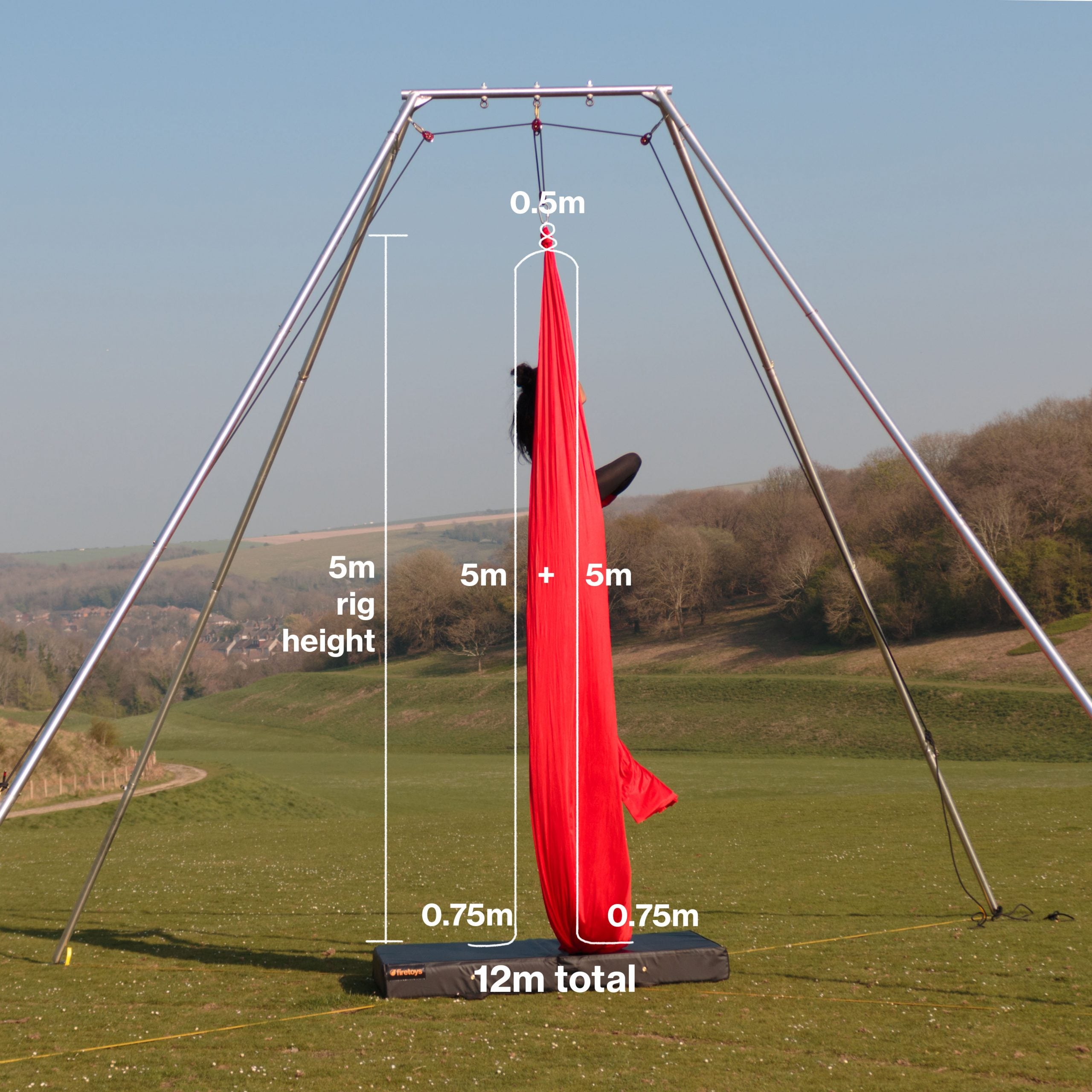 What length aerial yoga hammock do I need?
We offer two hammock lengths so it shouldn't be too tricky to find the right length for you. For most settings, including studios and regular ceilings, the 6-metre hammock is plenty. For those exploring more tricks, at a greater height, we recommend the 10-metre. Both are adjustable by untying and retying the knot to get the more specific height required.
Does your aerial kit have certificates for my insurance?
We have certificates of conformity available for all our aerial products. Send us an email with the names of the certificates you need.
What comes with the equipment I am buying/do you do kits/will it come with everything I need?
The majority of our products come without rigging which you will need to buy separately, this. Some products do come with basic rigging i.e shackle hoops with shackles, hammocks with O rings. Products will state on their listing if they include rigging. We do offer a rigging bundle with our Firetoys aerial hammocks.
How long should I use my aerial equipment for before replacing?
For the majority of our aerial products, we recommend a maximum usage of 500 hours or 5 years, whichever comes first. We provide usage log books with our apparatus to help track this. It is important to inspect the equipment regularly. If they show signs of wear before either time frame is up you should remove them from use.
SPINNING/FLOW ARTS
What accessories do I need with my Diabolo?
Most diabolos are sold without string or sticks, which are both needed. however we have a range of diabolo sets available as well, that bundle together handsticks, diabolo string, and handy carry bags
What length poi do I need?
A good place to start is to measure from your palm to the inside of your shoulder crease. This will be a good starting length for learning most tricks. A longer string will cause the poi to move slower. If the string is too long it's easier to lose control and get tangled. For more technical moves, like the buzzsaw, a shorter length is suitable.
What length fire staff do I need?
This depends on what style of staffing you like. For contact staff, we recommend longer lengths and heavier weights. A good starting measurement for this is to measure from the floor to about chin height.

If you prefer more spinning and throwing, a shorter length would be more suitable. This is more down to preference though a lighter staff is generally best for these moves.
How long does diabolo string last
This depends on the intensity of practice regularity of usage and even the brand of string. High throws and catches might weaken the string more than smaller technical tricks. On average, practising one hour a day, a string may last around 2-3 weeks before needing replacing.
How long should Diabolo string be?
There are 2 main ways of measuring the right string length for you. Either cut your string to be slightly shorter than your wingspan (the distance between your hands) or slightly shorter than the distance between your toes and your nose (or chin). This should allow you to hold the string and sticks far enough apart to make the string go taut which will help to catch Diabolos.
FIRE TOYS
WHOLESALE/STUDIO ACCOUNTS
Do you do wholesale or studio accounts?
Yes! Both come with different varying requirements. This includes evidence of being a retailer/studio/school and minimum ordering quantities. In return, we offer discounts on the majority of our stock. Email us to find out more.
How long does it take to set up an account?
Usually the same day or following day dependant on staffing and office workload.
What discounts do you offer?
For Wholesale/Studio accounts this varies depending on which items you want. Some items are exempt from all discounts.
PROBLEMS WITH YOUR FIRETOYS ORDER
What is your return policy?
You can return any item for any reason within 60 days of purchase as long as the item is in 'new' condition with all components. Any item that is not Firetoys branded must be in its original unopened packaging. Aerial equipment must not have been rigged and had a load applied. You can return small items with a free return label. You are responsible for the cost of return for large items. Please include your order number for speedy processing. We aim to process returns once a week. You can see our full returns policy here
How do I use my gift card?
Add your items to your basket as normal. During checkout, you can enter the voucher code which will take off the gifted amount from your order. You can only use one code per order. If the code does not work, please let us know and we will be happy to help.
How do I use my store credit?
Add all of your items as usual to your order. Enter your shipping information and proceed to the payment page. on the payment page you can choose "store credit" as a payment option.
I have not received my order.
Sorry to hear that! Please get in touch either by phone or email and we will be happy to help. In most cases, missing orders may be delayed or being returned to us but if they are lost we will send a replacement. Either way, we will get your order to you.
I have emailed but no one has responded.
Sorry about that. If you emailed us over the weekend or on a bank holiday then unfortunately we weren't open. All weekend emails we aim to respond to on the following Monday but we are often very busy on Mondays so do bear with us. We aim to respond to all non-weekend emails within 24 hours. If it's urgent please give us a call during our opening hours. Please also check your spam folder, and double check that our email address was entered correctly. If you used our contact form, please make sure that you entered your email correctly as well.
My item is broken, what can I do?
Send us an email letting us know what item is damaged, and a description of the problem along with a photo. We may assist with troubleshooting if it's electronic. For high-value items, we may arrange to get the original back and send a working replacement. For low-value items, we may send a replacement. If an individual component is damaged then we will likely try to source a replacement part for you.
GENERAL ORDER QUESTIONS
I forgot to use my discount code.
Send us an email with the code and expiry date. In some cases (particularly if there was a stock issue or if it's only just expired) we may be able to extend it a little.
I placed an order but need to change my address.
Orders tend to go out on the same working day. If it's before 5 pm on the working day of your order send us an email with the order number and the new address. We will change this for you before sending the order.

If you've ordered at the weekend, or on a bank holiday, email us before 5 pm the next working day.

International orders do leave us earlier in the day so it is best to contact us as soon as possible.